Travel.

Blog.

Share.
Features.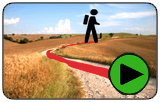 Record your GPS track and view your exact path as well as speed, and altitude changes for each of your trips. Retrace all your travels in every details.
Track your position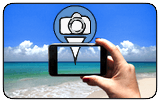 Capture everything around you and visualize the result on gorgeous maps. Shoot photos, videos, record audio and text comments and pin them to their their exact map context so that you can relive and share your best moments exactly as they happened.
Blog your environment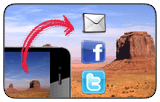 You can share your treks live via email, Facebook, or Twitter as they happen. Nothing simpler, just start recording a trip and send the link to your friends!
Share - even live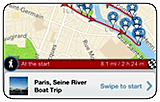 Discover trips submitted by the community and curated by the LiveTrekker team. Travel the world from your smartphone's screen, with incredibly detailed trips published regularly. Once downloaded on your phone, they can be browsed even without network.
Discover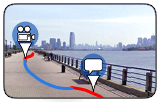 Recording a video in motion automatically materializes its exact path as a blue line on the GPS track, so that you can visualize its exact location and time span. This also applies to audio recordings. For videos, camera angles while recording are also optionally displayed.
Visualize your video path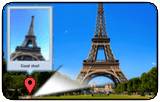 LiveTrekker records the direction your camera pointed towards when taking a picture. It is displayed as a sight angle cone on maps. Perfect to remember which side of the road was worth a shot!
Picture shooting angle.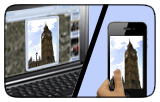 LiveTrekker lets you share live, so your friends and family can travel with you in real time as your trip unfolds. Any new content you record, when synced, can be viewed almost instantly by your audience.
Live mode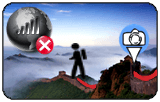 In this mode, LiveTrekker can be used with its full functionality without sending data. You hence save valuable battery life, and when synchronizing with free Internet access, for instance back at the hotel, you avoid roaming costs.
Disconnected mode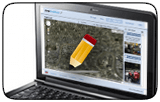 LiveTrekker offers a wide range of editing options to help you fine-tune and perfect your trips: add pictures or videos taken by other means than the App, update your comments and thoughts, or remove unwanted content. Adjust these out-of-whack GPS coordinates!
Editing options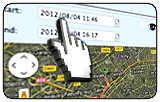 Browse through your existing trips and media using keywords, time, or GPS location matching to instantly retrieve that trip, picture or moment you wish to re-live or share. Browse your data through simple time interval queries to create or reorganize trips. Synced data is always available to you.
Search engine