Who never dreamed of traveling around the world to discover new cultures, and share this amazing experience? Mika and Steven, our two adventurers, have decided to make this dream come true. Backpack on the shoulders, they will be on the roads for two years. And because it would just be too easy otherwise, they chose the only mean of transportation available anywhere 24/7: hitchhiking!
Indeed, in order to travel the world, the two globetrotters will be hitchhiking in order to stay on a budget and mingle with the local cultures. Moreover, both of them being couch-surfing enthusiasts, they will try to stay with local hosts overnight as often as possible. Who knows, you may encounter them during your next holidays!
What is Step on Earth?
Steven and Mika are two young graduates who decided to embark on the adventure of their lives before returning to their careers. And they are not easily scared! Their first major checkpoint will be the Polar circle, before a journey on the legendary Trans Siberian and its thousands of kilometers through the Russian taiga. Their second big challenge will be to cross the ocean from Asia to the USA, "boat-hiking" in the process! Let's wish them good luck! ☺
Why travel with LiveTrekker?
This project is more than a simple trip around the world; it is also a personal investment over the longer term. Indeed, in addition to the (upcoming) creation of a website aimed at helping travelers with travel procedures, and the sponsoring of four elementary school classes, Steven and Mika have also decided to participate in NGO operations based in the developing countries they will visit along their journey.
Eager to share this wonderful life experience, they will rely on LiveTrekker's sharing options and unparalleled level of detail to broadcast their progress day after day, even live (when the mobile network coverage is developed enough). Their numerous followers will thus have the opportunity to immerse themselves in the intimacy of their journey and follow their adventure step by step, through LiveTrekker's gorgeous maps enriched with detailed media content in its right context.
So, peek into Steven and Mika's travel diary and participate in Step on Earth's adventure!
(Note: content mostly in French, but enjoyable for English speakers nonetheless!
)
Access their Facebook page: Step on Earth
Click on a thumbnail to view the corresponding story trip!
From Lübeck to Voringborg, adventures in the train
From Hassleholm to Jonköping… the joys of hitchhiking
Visit of Stockholm, last time
Angry Birds and Arktikum museum by -20°C
From Oulu to Helsinki: Flashmob?
Visit of Irkutsk in Siberia, Russia
Visit of Ulan Bator, capital of Mongolia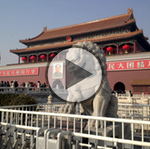 First Day in Beijing, China